---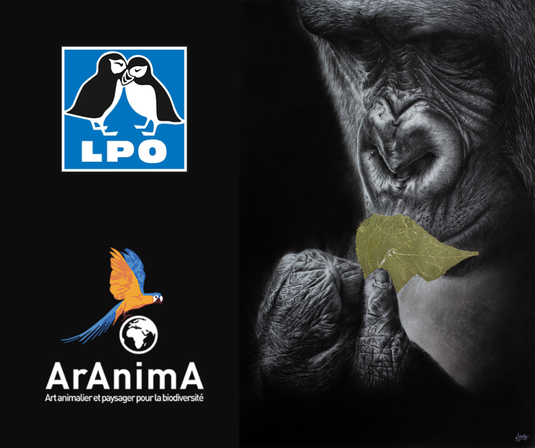 Truly happy to announce that I received the "Ara d'Or" trophy for my drawing 'Breathe' last night during the opening of ArAnimA exhibition at Galerie Thuillier in Paris, France.

My deepest thanks to Maud Lelièvre, representing LPO France and the amazing people of ArAnimA who always do a tremendous job.
And last but not least, thanks to Samir El Ghoula Photographie for the beautiful reference photo.

The exhibition is taking place at Galerie Thuillier, 13 rue de Thorigny, Paris until October 14th. You may find some beautiful artworks made by over 50 artists, dedicated to biodiversity and wildlife conservation. 20% of each sale will be given to LPO.

-----

Très heureuse et fière d'annoncer que j'ai reçu le trophée "Ara d'Or" pour mon dessin de gorille "Respire" samedi soir lors du vernissage de l'exposition de ArAnimA à la Galerie Thuillier à Paris.

Mes plus sincères remerciements à Maud Lelièvre, qui représente la LPO, ainsi qu'à toute l'équipe de ArAnimA qui réalise un travail exceptionnel comme à son habitude. Et enfin et surtout, un énorme merci à Samir El Ghoula pour la magnifique photo de référence.

L'exposition se tient à la Galerie Thuillier, 13 rue de Thorigny, Paris, jusqu'au 14 Octobre. Vous y trouverez de magnifiques œuvres réalisées par plus de 50 artistes agissant pour la biodiversité et la sauvegarde des espèces. 20% de chaque vente sera reversé à la LPO pour leurs centres de soins.