---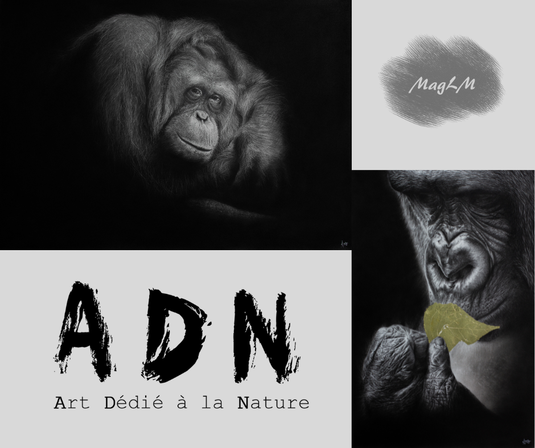 Really proud to announce that these 2 drawings have been selected to Salon ADN 2022 exhibition that will take place in Le Palais Bondy, Lyon, France, from September 30th to October 2nd.
The ADN exhibition was born from the will to federate artists who draw their inspiration from the contact with nature. Selected on file, all the exhibited artists are anchored in a qualitative aesthetic research, sincere and respectful of nature.

In order to create a transversality by forming a loop between the artist and his source of inspiration, the ADN exhibition commits itself to accompany each artist to make the choice of the support of an association of preservation of the nature.
-------------------------------------------------------------------------------------------------------
Ravie d'annoncer que ces 2 dessins ont été sélectionnés pour la première édition du Salon ADN 2022, qui se déroulera au Palais Bondy, à Lyon, du 30 Septembre au 2 Octobre.
Le salon ADN est né de la volonté de fédérer les artistes qui puisent leur inspiration au contact de la nature. Sélectionnés sur dossier, tous les artistes exposés sont ancrés dans une recherche esthétique qualitative, sincère et respectueuse de la nature.

Afin de créer une transversalité en formant une boucle entre l'artiste et sa source d'inspiration, le salon ADN s'engage à accompagner chaque artiste à faire le choix du soutien d'une association de préservation de la nature.